First what are BB Cushions? 
BB Cushions are essentially just BB creams soaked in a sponge like cushion that is placed inside a portable compact.  All cushions come with a special air puff that you use to apply the cushion to your face. This makes applying and carrying around BB Cushions a breeze. 
How do you apply?
When applying any type of cushions it's very important to use a patting motion, think pushing the product into your face.  Because BB Cushions are infused with skincare ingredients most creams tend to be very creamy and if applied in a tradtional sliding motion it will leave streaks on the face.  
Are BB Cushions for all skin types?
There are many type of BB Cushions catered to all skin types now and luckily as the trend has become popular all over the world more companies are now coming out with a wider range of shades.  There are also cushions that are "Matte" for oilier skin and "Moisturizing" for dry skin types and also cushions that fall in between the matte and moisturizing for skin types that are not quite dry or oily...ME.  My skin is quite complicated. I have your typical combination skin (oily in the center and dry on the sides) but during the harsh winter months I also deal with severe dehydration which causes my skin to flake and shed, not pretty at all.  
HERA UV Mist Cushion!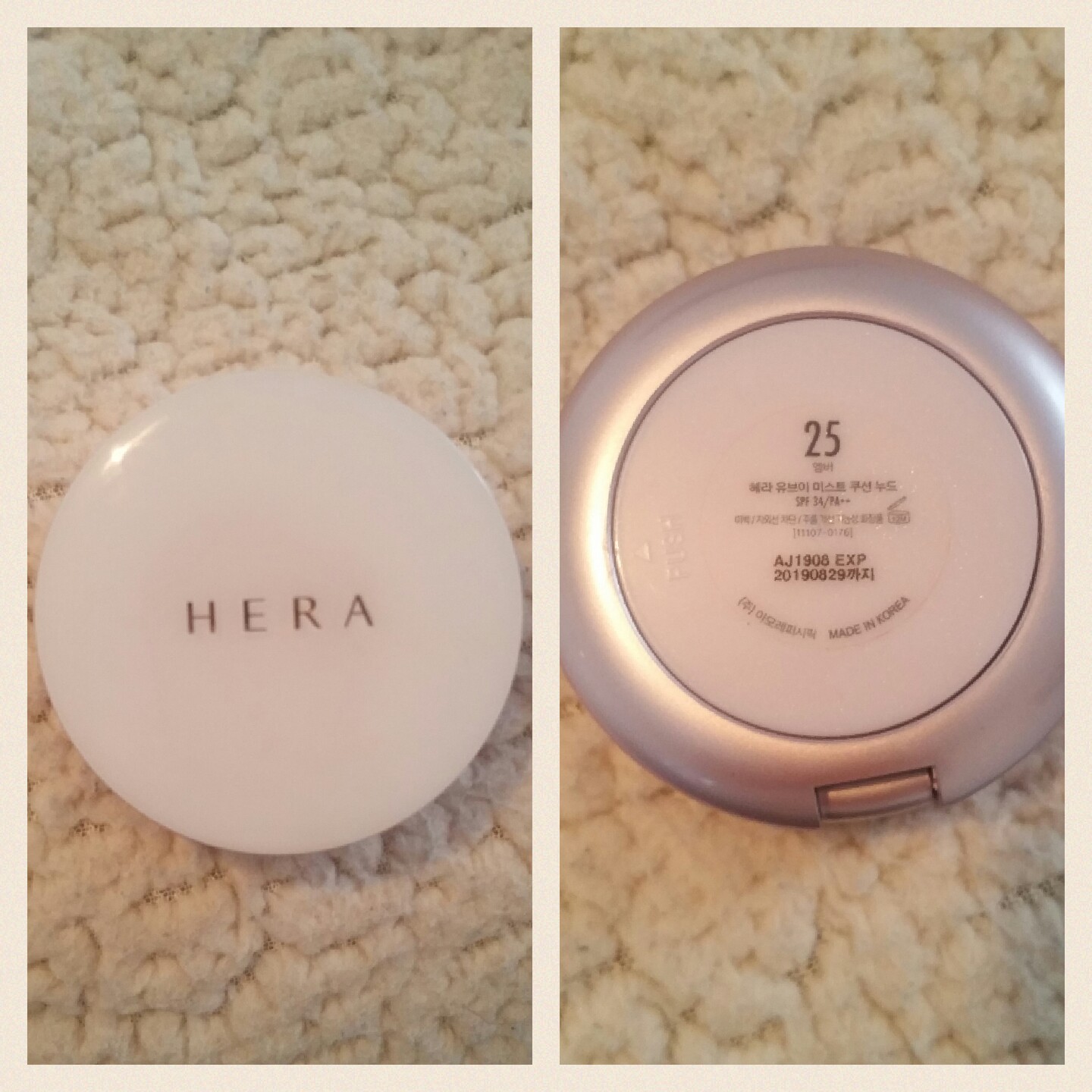 Now as a makeup artist it is a part of my job to try new makeup trends and products (wonderous I know =)). For my brides, I try to steer clear of any type of BB creams as they all contain spf and spf at high levels, which is not the best for bridal makeup due to the flashback the sunscreen components can cause. But my clients do ask about what they can use on a daily basis and as a person who doesn't like to wear heavy makeup myself BB creams are amazing. Skincare, SPF and Cover in one product sounds like a dream. And to hear that it now came in a easy to carry and use cushion form sounded like a dream.  So I tried a number of them and I had yet to find any that I had fallen in love with that I could recommend to my clients. My main issue was that most of them felt like an oil slick by midday and the more matte versions clung to my dry patches and looked too patchy and cakey by midday.
But I am so happy to say I have found my dream cushion! I have been using the HERA UV Mist Cushion for the past month and I am in love. It gives me the most beautiful coverage without it looking cakey and literally stays put all day without it feeling sticky or oily.  It moisturizes just enough to not accentuate the dry patches and gives me the most beautiful glow from within that I LOVE.  Another bonus is that it feels super cooling as you apply. It is also one of the few Korean cushions that have a color beyond the usual darkest No.23.  The shade I have is the Nude (means natural) No.25 Amber which is a perfect shade for my skin tone.  There is also a Cover version of this same cushion and is supposed to provide a higher coverage. For me the Nude version is just right.   
Just a little info about the cushion from the HERA website.
 A radiant and plump complexion filled with moisture from within
Mineral Clay Water EX, fortified with high-molecular moisturizing ingredients, helps retain moisture in the skin to give a healthy, hydrated skin. Hypertonic Radiance™ technology brings out moisture to the skin's surface to create a plump skin with a dewy glow.
 Enhanced antioxidant effect protects the skin against external irritants
Antioxidants in Smart Vector UV Complex are released when exposed to sunlight.to form a protective barrier on the skin's surface to protect it against external irritants.
 An ultra-fine, lightweight formula that seamlessly glides onto the skin.
Ultrafine Dispersion technology creates a lightweight foundation formula for a seamless and natural-looking coverage. Light Touch Powder, formulated with skin-friendly amino acid, allows a fresh, natural, and translucent coverage.
Where can I buy?
HERA is a brand of AMORE PACIFIC, so if there is a AMORE store around you they should carry the HERA brand of products along with Laneige and Sulwhasoo. This retails for $45 and comes with 1 refill. Online you can find it from ibuybeauti.com, stylekorean.com, peachandlily.com. I bought mine from ibuybeauti.com and only had positive experiences with my orders from them. 
https://www.ibuybeauti.com/product/hera-uv-mist-cushion-spf50pa-with-refill/" target="_blank">http/www.ibuybeauti.com/product/hera-uv-mist-cushion-spf50pa-with-refill/

Below is a Before and After of me wearing the cushion. As you can see the coverage is so natural and glowy.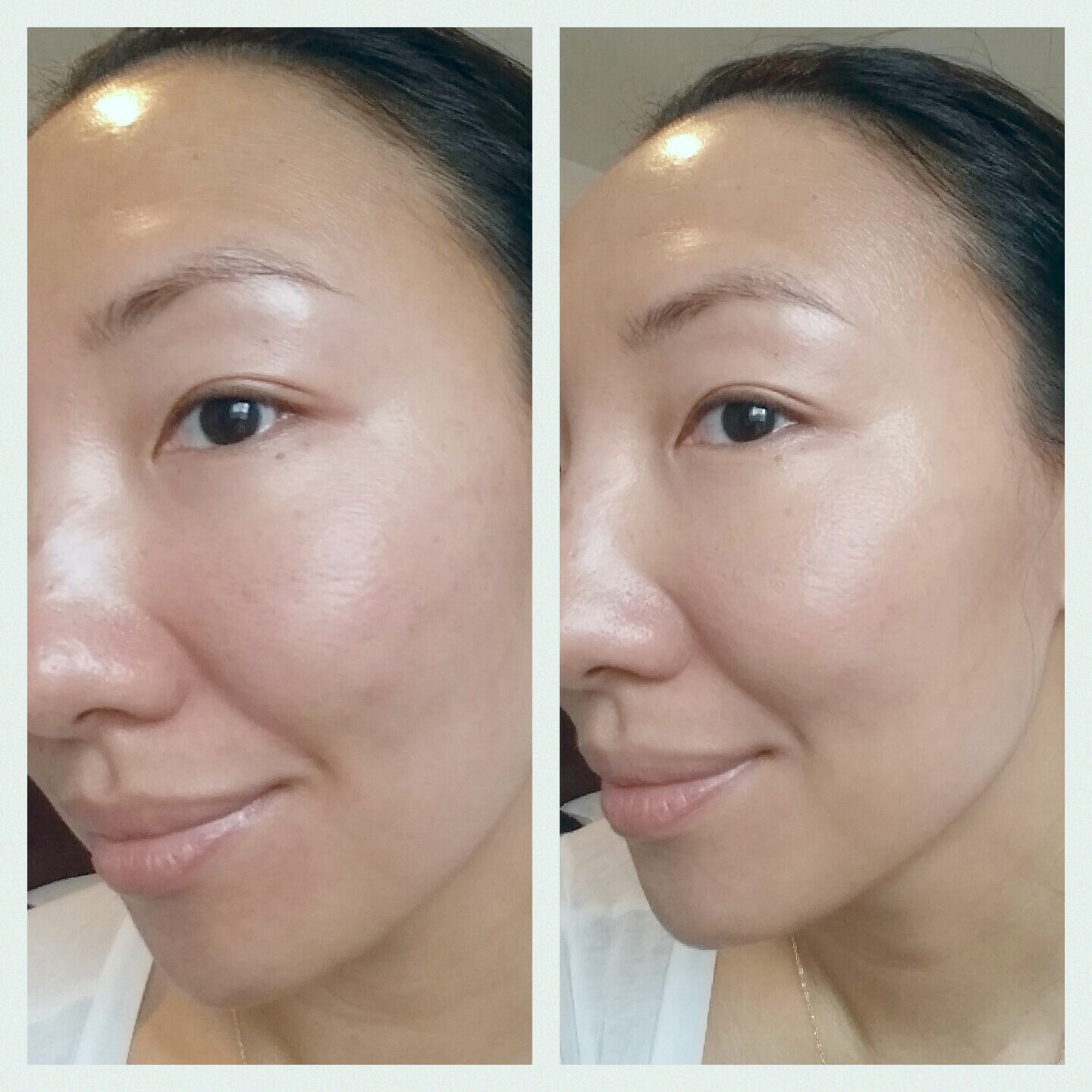 Thanks everyone!
Grace