These past few weeks have made all of us Northeast residents feel like we are in a giant Snowglobe and Elsa is shaking the globe while laughing and playing a cruel joke on us all.  I, like everyone else can not wait for the spring weather to finally be here and leave behind this winter mess.  The winter can have some of us feeling a bit down but it can also wreak havoc on our skins. The combination of cold winds and dry indoor heat can make even the softest skin feel quite parched.  As peak wedding season is coming upon us, I get asked ALOT by my brides how to best prep their skin for their upcoming nuptials.  My number one recommendation is to find a great skin care therapist and get on a facial program.  This is best if you have a few months before the actual wedding date as you want to make sure how your skin will react after getting a thorough cleansing facial.  But below are some products that are my number one go to products to combat those winter skin woes for your upcoming nuptials.
1. Shu Uemura Cleansing Oils $37

Soap free cleansers are always the way to go but during the winter months a great cleansing oil is the best way to thoroughly remove any dirt and makeup without irritating your face.  If your skin leans more towards the oilier side I would recommend cleansing with a soap free foaming cleanser such as my favorite Cerave Foaming Cleanser. 
2. Biologique Recherche P50 lotion $59

By far the BEST acid toner I have ever tried.  An acid toner is a great way to slough off the dull, dry skin patches and even out skin tone.  Just make sure not to overdue it as the skin can react negatively.  I would suggest starting off with using an acid toner once a day at night.
3. La Roche Posay Effaclar duo (Made in US) $36.95

If you suffer from minor breakouts this gel is the perfect combo of lactic acid and benzoyl peroxide.  There are 2 versions one made in France and the other in the US, personally I have found the one made in the US to be more effective for keeping my occasional acne at bay. The difference is the US version contains Benzoyl peroxide and the one made in France does not.
4. Laneige Water Sleeping Pack $23

This gel cream does a seriously amazing job of keeping my parched skin feel moist without feeling oily.  I apply this 4 times a week during my night time routine.
5. Skinfood Honey Black Sugar Mask Scrub $18

This scrub is another winner! The sugar scrubs do not feel harsh on the skin and the honey leaves skin feeling so soft!
6. Clinique Moisture surge spray $22

A moisture spray that you can carry around with you in your bag and spray on your face to keep you feeling fresh and moisturized throughout the day
This is another one of those staples in my kit, keeps the lips feeling so soft but if your like me and have hands that look like its been through some tough times because of all the handwashing, this is a lifesaver for those chapped knuckles!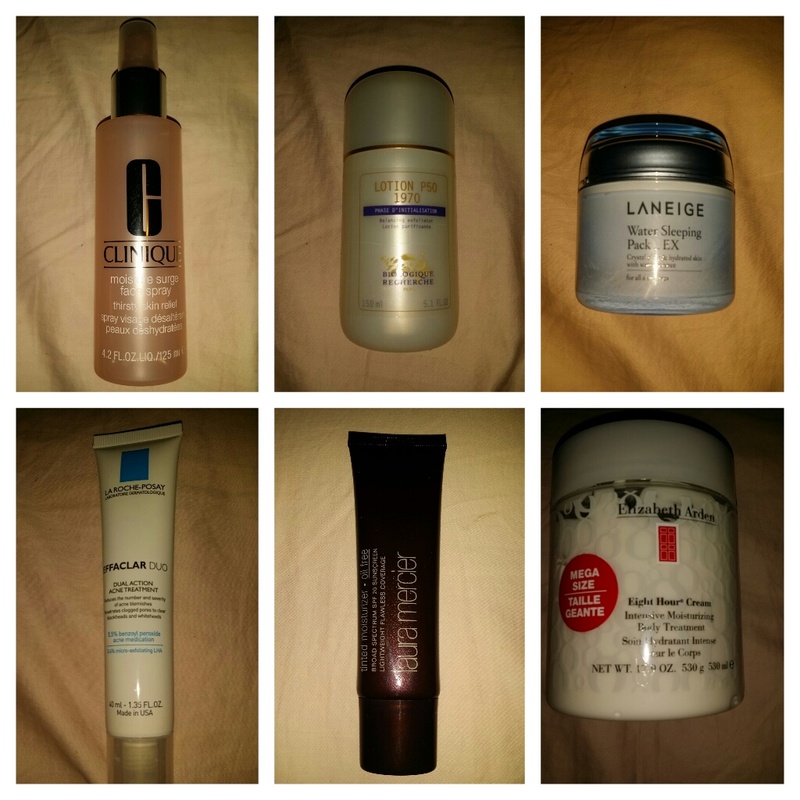 If you have any beauty questions, feel free to leave a comment below!